Who is righteous?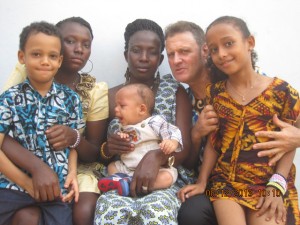 This is a Christmas photo of Steve the Evangelist and his family…
We here at African Revival Mission continue to spend time talking to Muslims and Jehovah Witness folks and the lost…
Is interesting as I often ask the Jehovah Witness and Muslims if they are righteous? Their reply is no. They say there is no one righteous on the earth.
Yet Steve adds here. If that was true then no one would be born of God.
See it says in Romans 8 v 10: 10 If Christ is in you, though the body is dead because of sin, yet the spirit is alive because of righteousness.

Without that righteousness (which is gifted to us through Christ) we could not come alive spiritually, which is the being born again….
Without that gift of righteousness we could not serve God, nor worship Him in Spirit or truth.
Without that gift of righteousness we cannot preach and minister in truth and with love.
Without that gift of righteousness we are lost and separated from Our Maker.
God is good, and He wants you to be good to. Through receiving His gift of goodness. Then go and do the works OK.
Steve..