April 11th, 2010
Comments off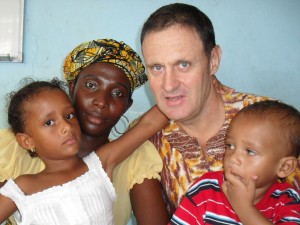 Dear reader let me introduce to you the wonderful family God has blessed me with here in Ghana. Little did I know way back in 1998 as the Holy Spirit whispered to me, "all you want in life will be found in Ghana" that I would end up with such an amazing family.
From the left our dear Aimee almost 4 1/2 years, then Beauty who I married in 2005, me and Bradley, who will be 2 next month (he has been talking freely now for about 6 months, I thought it was only young girls that liked to talk so much). We are blessed beyond measure……..
I daily thank my Father in Heaven for such precious gifts.
Please continue to pray for us so we can display the love of Christ that is in us to other families and individuals in Africa.
That the grace and power of God will continue to poured out on us so we can stay in unity and in the Spirit so that many can be won into the kingdom. That the work of the perfecting of the saints can continue.
A Grateful Steve.
African Revival Mission (ARM)
The Body of Christ in Unity 4 Revival.
Please, we are looking To Father for more funds to enable us to continue in the work, Pray and see if He is leading you to join us in the work.